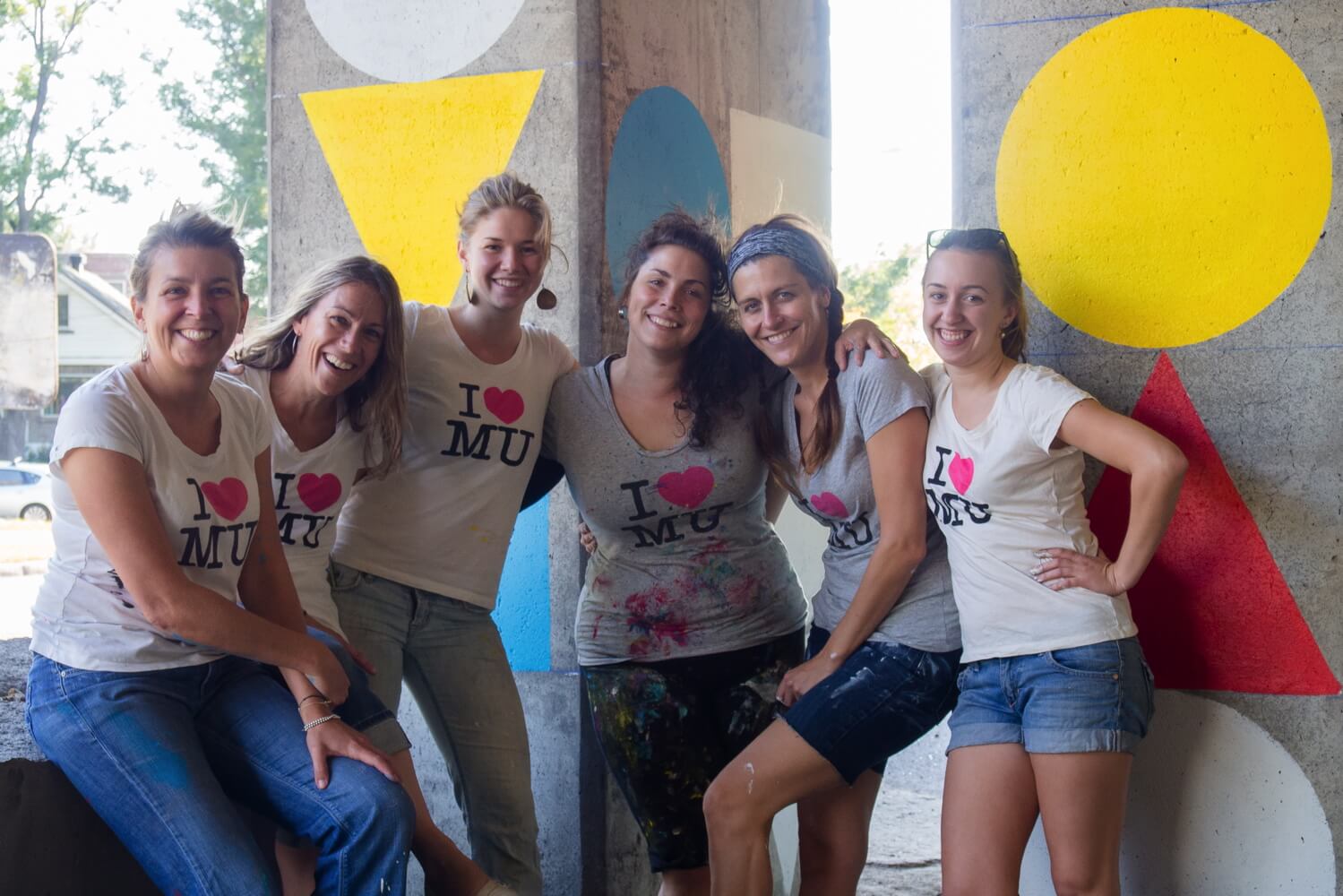 Elizabeth-Ann Doyle, Co-founder, General and Artistic Director
Holder of a Master's degree in History and more than 15 years' experience working with cultural companies, Elizabeth-Ann has brought together her personal and her professional interests by co-founding MU.
Her career began at Place des Arts where she gained appreciation and a passion for the cultural milieu and the international spectrum of shows. Six years at the Fine Arts Museum of Montreal allowed her to expand her interest and knowledge of the visual arts medium. She then left Quebec to tour with Cirque du Soleil throughout the United States as an integral member of the Public Relations team.
During a stay in Philadelphia with Cirque du Soleil, she was exposed to the wall mural phenomenon (Mural Arts Program) and its impact on the art, economic and social development of the city. She felt that Montreal deserved a similar project. The spark was lit but it was several years later before MU became a reality. During those years, she spent some time in the conception and the production of special events (mostly for the Cirque du Soleil, in addition to other prestigious clients such as Philip Morris and Cap Gemini). She produced large-scale events in Montreal and throughout the Unite d States (New York, Chicago, Los Angeles) as well as in Paris, London, Milan, St-Petersburg and Moscow.
In 2006, the time for MU arrived. Elizabeth-Ann has dedicated her energy and creativity to the organization ever since.
Emmanuelle Hébert, Co-founder
Emmanuelle holds a Master's Degree in political science from McGill University. She has extensive experience in logistics and event production acquired at L'Équipe Spectra, Just for Laughs and on tour with Cirque du Soleil. As co-founder of MU, she invested her strength as a seasoned political scientist to develop a social component that has become an integral part of the organization.
A militant activist, Emmanuelle has devoted herself during the past several years to the challenges linked to election reform, to a more inclusive democracy and to civic participation. In 2002, the government of Québec named her member of the Directeur des États Généraux Committee on the reform of democratic institutions. With several scientific publications to her name, she is a founder of the Mouvement pour la Démocratie et Citoyenneté du Québec (Quebec Democracy and Citizenship Movement). She has campaigned for the Collectif Féminisme et Démocratie (Feminism and Democracy Collective) and, in October 2006, she was named member to the Women of Montreal Council by the City of Montreal Municipal Council.
She has a solid experience in political representation, able to mobilize different actors and communicate in public. These experiences have developed knowledge of the terrain and of the reality of social development in addition to sharpening her know-how related to civic participation. MU has always been a great arena for this committed citizen.
She won the provincial contest ARISTA 2011, for the Quebec Socially Responsible Business Leader organized by the Montreal Youth Chamber of Commerce.
Since March 2013, Emmanuelle works as the Planning Consultant for the Cinema, Festivals and Events department of the City of Montreal.
Julie Émond, Education and Public Affairs Director
Julie holds a Bachelor's degree in recreation from UQTR and since 1988, has managed projects in tourism and for cultural and community organizations. Having acquired experience in events logistics and management at Équipe Spectra early on in her career, she then opted for a management role within cultural and community organizations, notably at the Centre culturel Georges-Vanier. It is here that she put her creativity and leadership skills to use and developed a keen interest in cultural mediation.
Julie has a curiosity for the visual arts, is interested in working side by side with other developers, and has an inherent desire to make a difference within the communities we work with. These qualities brought her to MU in the spring of 2013, where she coordinates the community relations and is responsible for the mural arts workshops offered to youth groups aged 13 to 17 during the summer months.
Julie Lambert, Production Director
Julie Lambert holds a Bachelor's degree in translation with a minor in Spanish. She has gained over a decade's worth of experience in diversified fields such as communications, project management and coordination as well as events logistics and production, all for the Cirque du Soleil. Having worked in the entertainment industry in Montreal, Europe, Mexico and the USA, she has developed the versatility and the adaptability required to mobilize teams, coordinate large-scale events and to see projects through in a timely fashion.
Her desire to work within a cultural organization devoted to its social and community outreach combined with her aspiration to rally people behind common projects and goals are what led her to join MU in April of 2013. Here, she finds a creative blend of special projects to coordinate and of mural projects to implement.
Corinne Lachance, Executive Assistant
Artist, Corinne Lachance decided to direct her career towards the management of cultural organizations. After 10 years experience in coordinating mural art work, she now provides the necessary support to the three directors (general and artistic, production and education). Informed of all the projects underway at MU, she is often the point of contact between the public and management. Her pivotal position and versatility make her a valuable aid in the overall management of the organization. You should also contact Corinne for all matters relating to administration.
Isabelle Duguay, Youth Programming Coordinator
Having completed a Masters in Art Education at Concordia University, Isabelle Duguay is a multidisciplinary artist that is well established in the Montreal community. Her previously earned degree in Design for the Theatre has allowed her to work in both French and English professional and community environments. Through these experiences, she has discovered that she has a distinctive talent for working with and leading teams of people, as well as a true passion for teaching. Since 2007, Isabelle has acquired a wealth of experience in education (visual arts, theatre) all the while guiding and inspiring hundreds of kids of different ages and backgrounds, facilitating their creative learning. At the root of her motivation is the desire to develop unique and stimulating projects centered on the needs of Montreal's modern youth. Specialized in working with teenagers, she wishes to engage them through a variety of artistic endeavors and see them become inspiring role models themselves.